Wedding Music

Music for Your Special Day
Live music will add something special to your wedding celebration. Harp music creates a beautiful ambience for all to enjoy, whether it is during the ceremony, drinks reception, or the wedding breakfast.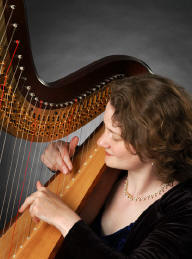 "It was just so perfect! We were completely thrilled with the music – it added so much to the day"
(Shelly and James)

I specialise in working with you to choose the perfect music for your wedding. I can provide music as your guests arrive, special music of your choice for the entrance of the bride, signing of the register and exit of the wedding party. This is a wonderful opportunity to personalise your ceremony.
The harp also provides a delightful backdrop while your guests relax over the photos or during the meal.
Wherever possible, I will meet you before the wedding day to discuss your personal requirements and play through your choice of music for the ceremony.
"We could not have imagined how fantastically well your presence would add to our special day. You helped produce an extremely special atmosphere for us"
(Tim and Julie)
I am happy to learn or arrange any music not currently in my repertoire, and I can also help those who have no fixed ideas and need some advice!